Tomasz Walawender joins to Renta
Renta Group has incorporated in Poland and has hired Tomasz Walawender to country manager. He has started in his position in the beginning of September. Tomasz reports to CEO of Renta Group and is member of Group Management Team (GMT). Expansion of rental network to Poland is logical next step as a part of Renta's strategy. Rental operation in Poland is planned to start at the latest during the first quarter in 2020.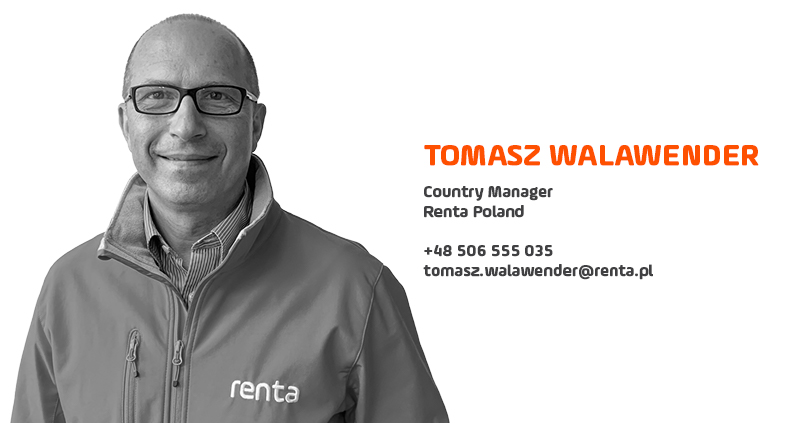 Tomasz has long and wide experience in construction equipment sector both in rental and sales. Within rental industry he is known on building Ramirent's rental networks in Poland and Central Europe as well as on one of the former key executives of Ramirent Group. Prior to Renta Tomasz held Sales & Marketing Director position at Swepac AB's export operation.
Tomasz Walawender: "I'm very glad to join a Management Team of such a dynamic and innovative Company as Renta Group. Entrance to fast growing rental market in Poland is one of the main priorities of the Group and I believe my long-term experience in rental industry will help Renta to achieve planned targets.
For me personally, it's a great opportunity to come back to rental business (what I was always dreaming) and work with fantastic group of new colleagues in a company full of entrepreneurial spirit.
CEO of Renta Group Kari Aulasmaa:"It's excellent that Tomasz decided to join us. His experience and knowledge will be valuable for our expansion to Poland and further to other CE countries. I am very happy to wish my appreciated colleague welcome to Renta's international family."
Information:
Kari Aulasmaa, CEO Renta Group
E-mail: kari.aulasmaa@renta.com
Tel: +358 40 511 6445
Tomasz Walawender, Country Manager Renta Poland
E-mail: tomasz.walawender@renta.pl
Tel: +48 506 555 035