Renta is expanding through an acquisition in Norway
Renta subsidiary Renta Norway AS will acquire 100% of the share capital of Byggesystemer Norge AS with a deal signed on the 2nd of April 2021. The purchase is scheduled to be completed by the end of April. Until the acquisition is finalised, both companies will continue to operate normally, as separate companies. In conjunction with the deal, the owners of Byggesystemer will make considerable investments in Renta Group Oy. The acquisition is expected to triple Renta's business in Norway and to increase the group's turnover considerably.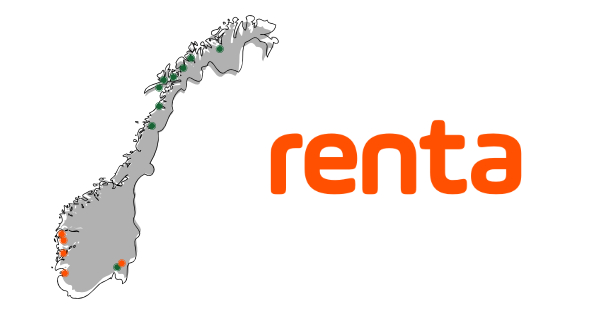 Byggesystemer Norge AS is a general equipment rental company, founded in 1975. It has eight rental depots in Northern Norway and a scaffolding company in the Oslo region. The company has about 160 employees, and it is owned by two founder families and five minority shareholders who also work for the company. Byggesystemer has a well-established position as the market leader in Northern Norway and one of the country's leading scaffolding companies, with annual turnover of about 30 MEUR.
''The acquisition is a step towards building a nationwide rental network in Norway, in line with our strategy. Simultaneously it will significantly strengthen our expertise in general machine-rental services and create a foundation for building a nationwide scaffolding business. Byggesystemer's operations are based on strong local units and skilled professionals, just as Renta's are. Our operating models and corporate cultures are a good match, and we have no overlapping business activities. Byggesystemer is a skilled company that is highly appreciated by its customers, with a strong position in the equipment rental market in Northern Norway. We are looking forward to be joined together", says Renta Group CEO Kari Aulasmaa.
After the acquisition, Byggesystemer will continue to operate as before, under its own management as a part of the Renta Group. The company's CEO, Arne Bratsberg, will remain in his current position, as will all other personnel. The acquisition does not affect the company's day-to-day operations or the position of its' 160 employees.
"For more than 45 years a strong focus on local business and skilled employees have been the main reason for success, Byggesystemer now being the biggest rental company in northern Norway in terms of market share and number of depots. With the same view on the importance of local business Renta is the perfect industrial partner for us. Renta having industry leading systems in terms of digital operational support will also be a big benefit for our customers and employees. In addition to equipment rental, scaffolding and weather protection is an important part our business. Alongside the depots in northern Norway, our depot in Oslo contributes to Renta becoming a leading supplier of scaffolding and weather protection in Norway. Together with our new colleagues in Norway and the rest of Renta Group we will continue our growth to the benefit of our customers and employees", says Bratsberg.
The parties have agreed not to reveal the purchase price or other details related to the acquisition.

Sources of further information:
Kari Aulasmaa
CEO
Renta Group Oy
+358 40 511 6445
kari.aulasmaa@renta.fi
Arne Bratsberg
CEO
Byggesystemer Norge AS
+47 92 051 490
arne.bratsberg@bysy.no
Renta Group Oy
Renta Group Oy is a Finnish construction-machinery and equipment-rental company founded in 2016.  The company has operations in Finland, Sweden, Norway, Denmark, and Poland, with 83 depots and more than 850 employees. Renta is general rental comapany with a wide range of construction machines and equipment along with related services. In addition to operating a network of rental depots, Renta is a significant supplier of scaffolding and weather-protection services. Renta Group's net sales in 2020 was in excess of 210 MEUR.
Read more about Renta:
www.renta.com