Tiia Kivistö, Supervisor, Renta On-site Units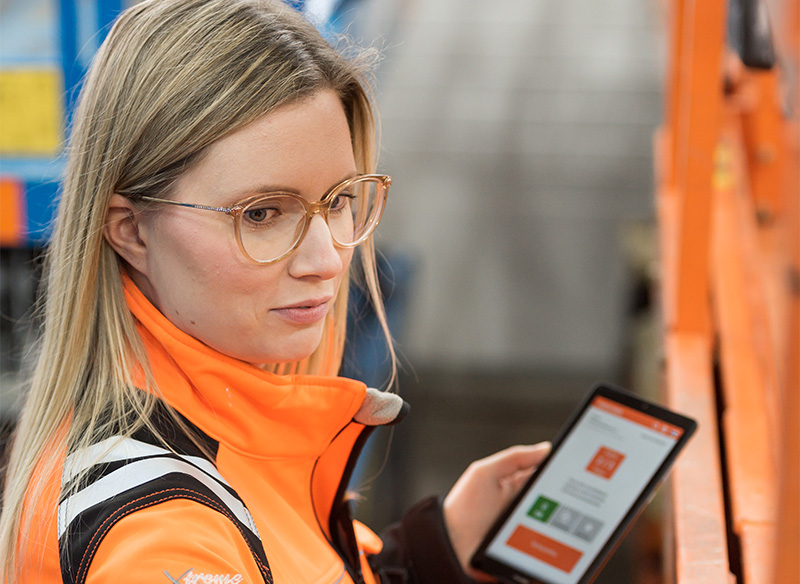 "I can feel proud about the company I work for"
–As early as the first job interview, I felt that this was the place for me. This is where I want to work.
Tiia Kivistö had wanted new challenges in her working life for a long time. Having previously worked in the professional kitchen sector, Kivistö started working at the Renta On-site Units department as an office assistant in November 2019. After six months, her boss Jari Korhonen offered her a supervisor's position.
–Of course it felt good! In my previous job, I waited for years to be given an opportunity and attended further training to get the chance to advance. Now I feel I've been rewarded for all that work, and it all happened pretty quickly. I feel that I'm trusted.
Tiia feels that a supervisor's tasks are just right for her at the moment. She has never for a moment regretted coming to work for Renta.
–I'm responsible for the operations of this hall. All the incoming and outgoing units go through my hands. I prepare rotas and schedule work here, including who does what. It's my responsibility to ensure that on-site units are sent to the customer on time.
After a seven-year stint working on office duties, Tiia is happy not to be stuck behind a computer, even though cold winter weather, snow and muddy conditions often lend her work some extra colour.
–I'm on the move all day. I walk in the hall and visit worksites. I like my work being mobile!
Renta places trust in its employees
–The big difference from previous places is that here everyone thinks in a customer-oriented way. Everyone tries to do their work so that the customer is happy. I haven't come across indifferent attitudes here. No one says that it's not my job to do something. That's always been my attitude and here everyone understands that in the end it's the customer who pays our wages.
Bureaucracy is kept to a minimum and employees are trusted. According to Kivistö, this is reflected in the way Renta's teams respond rapidly to customers' needs.
–If a customer wants a wall here or furnishing there, that's what we do.
For Tiia, it is important that the company gives employees everything they need to succeed. Tools must always be in good condition. This saves time and helps keep employees motivated. Renta responds to feedback without delay.
–If someone comes to tell you that a tool is missing or broken, a new one is acquired. There's no need to ask the CEO for permission. Whether it is a computer or a drill, tools have an impact on all areas of work. At the end of the day, a missing tool affects the customer whose order is delayed.
–We have actually discussed how much it would cost to have even a single employee spending an hour a day looking for tools. How much time is lost over a week or a month, let alone a year, if we decide against buying a drill or any other tool that costs a few hundred euros? At Renta, you feel that employees are trusted to act in the best interests of the company.
People are the best thing about Renta.
–We have a nice bunch of people here. We have great team spirit, even though we are all different personalities. Last year has been busy but this team has helped me cope with it. It's these people that make it fun to come to work every day. It's a huge source of energy for me.
–I never have to think twice whether to tell people where I work. I can be proud of it – and I really mean it; it's not just empty words.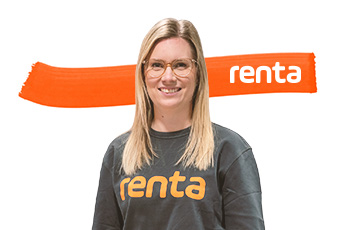 Tiia Kivistö
Education: Vocational qualification in business and administration
Started at Renta: November 2019
Why would you recommend Renta as a workplace?
– You are given the power to make decisions independently. It's a huge bonus that has an effect on your work every day.